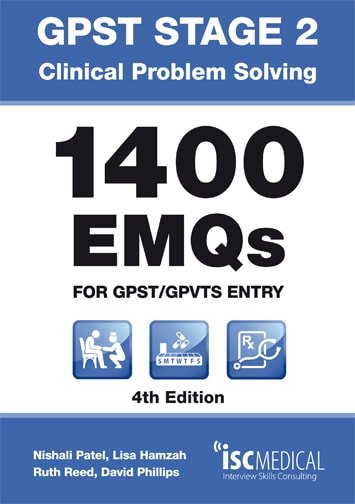 EMQs for GPST / GPVTS entry
This book contains 1400 questions & scenarios covering 250 topics in the Extended Match Questions (EMQs) format. Includes all specialities covered at the GPST / GPVTS Stage 2 assessment.
Overview
Includes all specialties required at the exam: Bio/Path, Cardiology, Dermatology, Endocrinology, ENT, Gastroenterology, Haematology, Infectious Diseases, Neurology, Obs&Gynae, Oncology, Ophthalmology, Orthopaedics, Paediatrics, Pharmacology, Psychiatry, Renal Medicine, Respiratory, Rheumatology, General Surgery.
Product Details
Authors: Nishali Patel, Lisa Hamzah, Ruth Reed, David Phillips
ISBN: 978-1-905812-21-9
Publication Date: November 2011
Edition: 4th