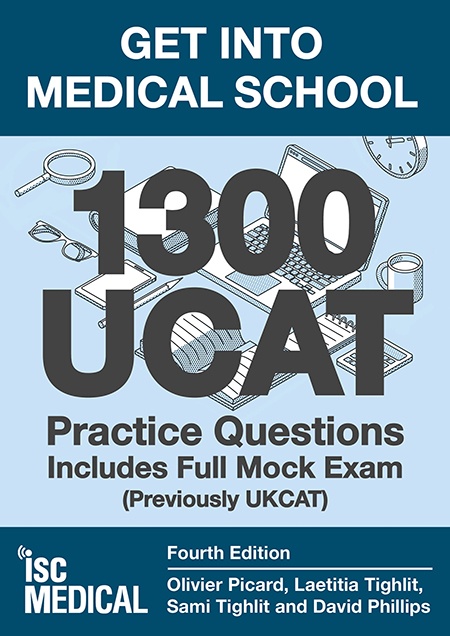 UCAT practice book
The UK's best selling book for the UCAT entry exam to medical school, suitable for the 2022 exam (2023 entry) UCAT exam. With over 1300 UCAT practice questions (including a full mock exam), in-depth explanations, and comprehensive tips and techniques spanning over 800 pages, this book shows how to approach abstract, verbal and quantitative reasoning, decision management and situational judgement questions; and helps candidates familiarise themselves with all the potential traps that can be laid by the examiners.
Authors: Olivier Picard, Laetitia Tighlit, Sami Tighlit, David Phillips
ISBN: 978-1905812-27-1
BUY THROUGH: AMAZON
Overview
Can you analyse data and text, perform calculations, and make accurate decisions under pressure?
Do you feel confident that you can answer most of the UCAT questions correctly within the short period of time allocated?
Do you want to familiarise yourself with key techniques which will save you a considerable amount of time on the day?
This book contains 1300 practice questions, including a full mock exam, which will give you all the tools you need to optimise your score on the day. Over 800 pages, the book sets out a wide range of questions for all five major sections of the UCAT: Quantitative Reasoning, Abstract Reasoning, Verbal Reasoning, Decision Making and Situational Judgement.
The questions mirror the level of difficulty that you can expect at the exam, from relatively easy to stretching. Each chapter contains comprehensive techniques to help you handle each of the four sections of the UCAT. The breadth and depth of the explanations, tips and techniques provided will ensure that you are fully prepared to answer all questions confidently, correctly and within the short period of time allocated.