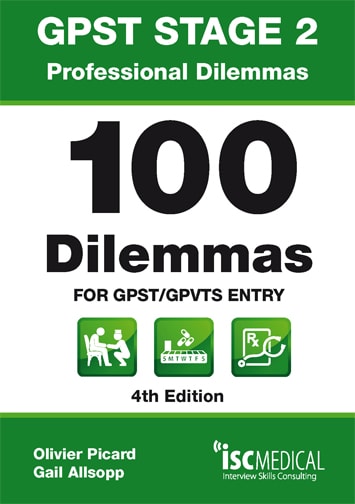 Ref GPST2-DIL-22-6: 100 Dilemmas for GPST / GPVTS Entry
This book covers exclusively the second paper of the Stage 2 Assessment day and contains over 100 scenario on professional dilemmas similar to those encountered at the exam. Includes examples, practice questions at all levels of difficulty and substantial answers and explanations.
Overview
This book contains over 100 scenarios based on the SJTs/Professional Dilemma paper of Stage 2 of the GPST/GPVTS recruitment process. It deals with both types of questions that can be asked at the exam (i.e. rank 5 given options, or pick three most suitable options out of seven). The book also contains comprehensive answers and explanation, giving candidates a clear framework and direction on on how to approach these difficult questions.
Product Details
Authors: Olivier Picard, Gail Allsopp
ISBN: 978-1-905812-22-6
Publication Date: November 2011
Edition: 4th