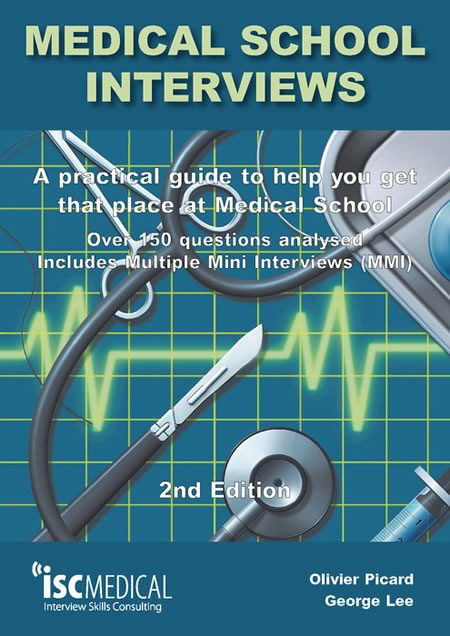 Medical School Interviews Book
An in-depth look at over 150 medical school interview questions, Covers all questions on motivation for medicine, work experience, personal attributes, ethical issues and scenarios, conflict resolution, and today's contemporary medico-legal and political issues.

Overview
2ND EDITION - INCLUDES MMI
A practical guide to help you get that place at Medical School. Over 150 questions analysed.
The book provides you with techniques to address the various types of questions, analyses good and bad examples of answers, teaches you how to add depth to your answers and how to answer those difficult ethical scenarios and lateral thinking questions.
If someone asked you "Why medicine?" or "What are the qualities of a good doctor?" Would you crumble or would you respond with the same old cliché as the next candidate? How about:
What makes a good team player?
Are you a leader or a follower?
Was it a good idea to send a man to the moon?
Should alcoholics receive liver transplants?
... these are questions posed at real interviews for medical school, and at last there is a comprehensive text that will help you answer them and many more.
MMI (Mini Multi Interviews)
The book covers the MMI structure in depth, providing comprehensive on how to handle the various stations you may encounter during your interview including role play, group discussions, prioritisation stations, graph analysis, ethical scenarios and many others.
This book is an easy-to-read practical guide that will help you express your true potential and to get that medical school place you dreamt of.
Areas Covered
Background & work experience
Personal attributes
Motivation for medicine
Studying medicine
The NHS and the medical environment
Medical ethics - Issues and scenarios
Handling difficult colleagues
Hot Topics - Today's contemporary medico-legal and political issues MMI
and many more.
Product Details
Authors: Olivier Picard (Communication Consultant), George Lee (Surgeon Urologist)
ISBN: 978-1-905812-05-9